Hawaii Information Links
General Big Island Information
---
Hawaiian History and Culture
---
Big Island Events and Travel Ideas
---
---
Places to See
---
---
Art Galleries and Cultural Centers
---
Exploring Hawaii's Science
---
Places to Stay
---
General Big Island Interest Links
Hawaii Island/ Big Island Real Estate Information and General Big Island Information
The Big Island of Hawaii offers many opportunities for enjoyment and investment. Consider owning a home or another property on the Hawaii Island, so that you may experience this enjoyment year round and or attract others who wish to also experience this.
When one considers purchasing a house or property on the Big Island, it is best to look into island differences like that of rainfall and the history of lava output and distribution. Hilo has the highest amount of annual rainfall, whereas other locations on the island have less. The Kohala area is known for having the most clear and sunny days in a year. The Puna area has had most of the most recent volcanic activity, especially Royal Gardens Subdivision, but keep in mind that most locations on the Big Island continue to have a small level of earthquake and lava risk factors.U.S. Geological Survey Lava and Earthquake Hazard Map
The cost of living, mold, vog, and pests are factors that all Big Island residents and visitors should be aware of. This cost of living includes the cost of food and shipping for in-state and out of state goods. For instance, a loaf of bread costs about $5.00 and a gallon of milk costs about $4.00. In regards to pests, it is usually a good idea to do an annual vumigation and to consider building materials that are insect resistant like redwood.
Of course, these factors should not detract one from buying property here. The Big Island is known for having relatively mild and comfortable temperatures. The yearly temperature averages range from the low 60s to low 90s. Areas like Mountain View and the top of Mauna Kea are known for lower temperatures on average, though. Also, most areas on the Big Island are close to good snorkeling areas, sunbathing, surfing, and rainforest hiking areas. As opposed to the big city atmostsphere of Oahu, many residents enjoy the more relaxed, laid back feel of this island.
Average Annual Rainfall Patterns for the Big Island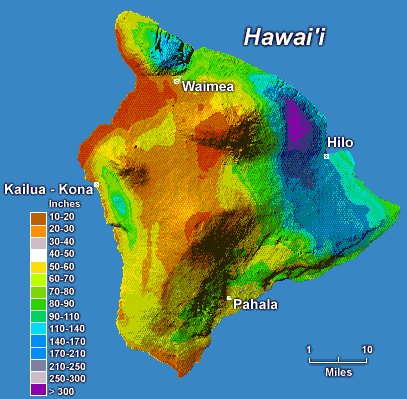 Enlarge Image
Big Island Real Estate Tax Divisions Map.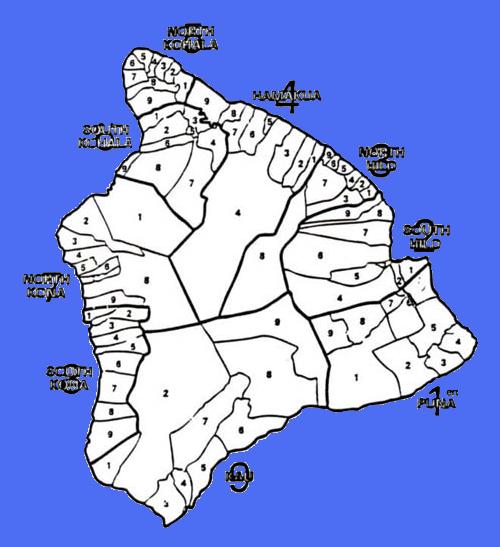 Enlarge Image
This map shows Hawaii Island tax divisions with their corresponding Tax Map Key Numbers or TMKs. TMKs can be used when looking at real estate listings to identify where a specific property is located on the island, especially if the other information is misleading. In order to use these codes, follow these guidelines. The first 3 is the number for the Big Island. Then use the next number to locate the zone or district; as in Puna is 1, South Hilo is 2, North Hilo is 3, Hamakua is 4,North Kohala is 5, South Kohala is 6, North Kona 7, South Kona is 8, and Ka'u is 9. Many towns are listed under these main TMK zones, like Volcano, which is mostly located under zone 9, Ka'u. The next number is the section within the zone and the last numbers are plat, and parcel. An example of a section is Orchidland in Puna. Plats are smaller divisions within a section and parcels are individual property locations. Plat and parcel are not always available publicly through the internet, but you can find out this information via a realtor. Ariel Murphy would be happy to help you out in anyway she can, regarding information about Hawaii real estate. Search Featured Listings.
Distribution of Utilities on the Big Island.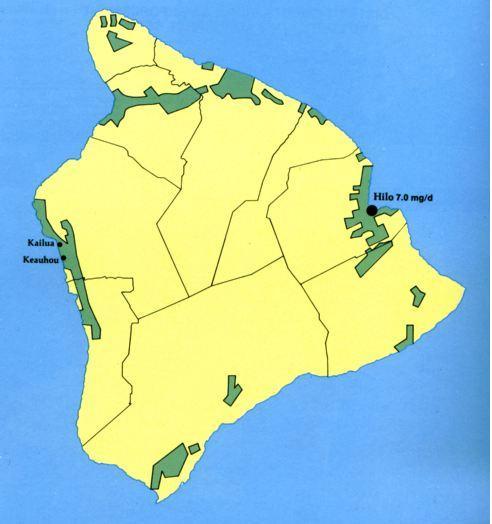 Enlarge Image
The following map shows the areas that are serviced by County water and sewer. Places elsewhere on the map often have catchment water and septic tank systems. For more information call Helco Electric at (808) 935-1171 or Oceanic Cable at (808) 961-0443.
Rainfall, TMK, and utilities map courtesy of © 2005-2008 Hawaiian Island Homes LTD.
Check out how the current housing and land market looks on the Big Island.
Hawaii Island Market Analysis Data